Milk Reception is that step in the trade with milk where the responsibility for the raw milk goes from the milk producer to the Dairy.
The registration of delivered milk, the temperature and samples for quality control takes place here. 
At least once a week, samples of raw milk should be taken to a laboratory test and checked for the following.
Somatic cell count.
Bacteria count.
Protein and Fat content.
Freezing point
Based on the test results, the farmer will be paid for his milk.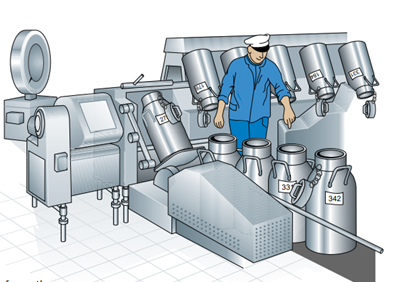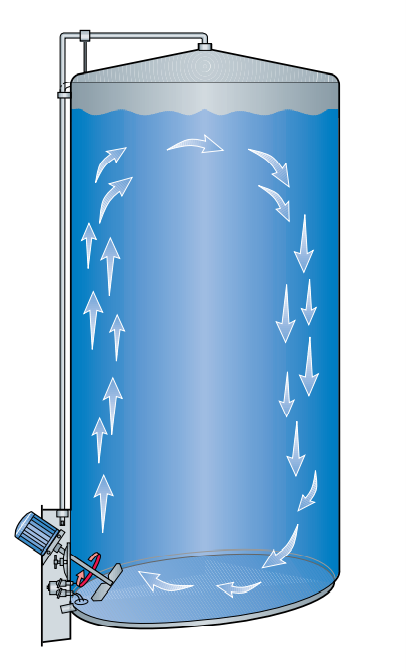 When raw milk is accepted, make sure the temperature is below +4° C.  When the milk is kept below this temperature, there is practically no deterioration of the bacteriological condition of the milk.
The raw milk can be kept in a Silo tank, or if the quantity is limited in a Farm Cooling tank
Do you need Milk Reception equipment -- Mejeriet can provide you with the components to set up an efficient production line
Individual needs will always vary from project to project. Below you will find Mejeriets step stones for equipment for a small & medium scale milk reception.
Small Scale Milk Reception — Can handle up to 5.000 lt.  per day —  Easy to  move to a satellite reception  when you expand your Dairy.

01.01 — 60 ltr. Container for emptying of milk cans, manual filling & emptying into dump vat after weighing and test of quality.
01.02 — Scale – 0 – 100 kg. – 100 gr. graduation
01.03 — Gallow where Container and Scale are fitted – (Part of the SS frame)
01.04 — Dump tank — 500 ltr. Sloping bottom with drainage sump.
01.05 — Milk pump – 380 Volt – 50 Hz – 1,2 kW
01.06 — Double filter — 0,5mm Mesh
01.07 — Flowmeter & Display
01.08 — Plate Heat Exchanger — Capacity 2.000 ltr/H — Working area from +30 to +3° C — Cooling media, Ice water at 1° C
01.09 — Stainless steel frame where all components are fitted
Medium Scale Milk Reception — Can handle up to 50.000 ltr. per day
01.20 — 10 meters 2″ Food grade Milk hose
01.21 — Balance tank, 150 ltr. — 3 way valve in bottom
01.23 — Milk pump — 380 Volt – 50 Hz – 2,2 kW
01.24 — Double Filter – 0,5 mm Mesh — 4 Butterfly valves for changing & cleaning the filters
01.25 — Flow-meter & Display
01.26 — Plate Heat Exchanger — Capacity 10.000 ltr/H — Working area +30 to + 3° C — Cooling media — Ice water at +1° C
01.27 — Stainless steel MCC — PLC Unit
01.28 — Stainless steel frame where all Components are fitted