When the development in the Dairy Industry took off in the sixties with bigger and bigger Dairies it was not possible to use open tanks or tanks with detachable lids one could clean manually.
The next step was a turbine inside the top of a tank and a three-way valve, enabling detergent to circulate over the Pasteuriser.
This was progress, but not for very long as a lot of detergents was wasted and the Pasteuriser was in-active for what it should have done
Then a clever guy come up with the idea of Cleaning In Place — A separate Unit with tanks, Heat Exchanger, Pumps & automatic programs, At the same time, they could reuse the detergent and save the environment from a lot of aggressive wastewater.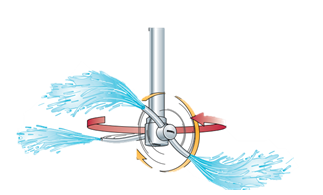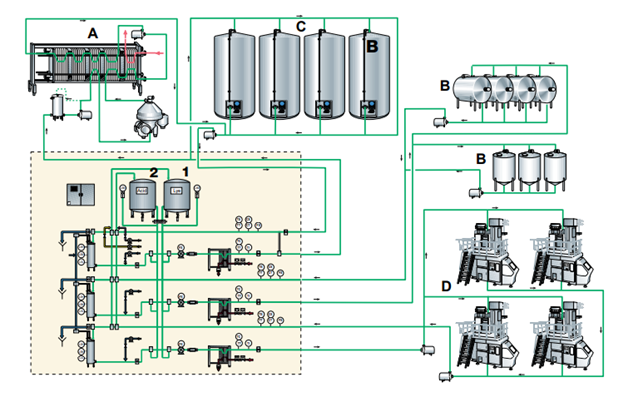 C.I.P.
To the left is a schematic illustration of a Cleaning In Place Unit — Cleaning the following:
Plate Pasteuriser
Silo Tanks
Buffer Tanks
Filling Equipment
The CIP unit consists of a tank with Lye and a tank  with Acid — Set of timers & sensors to control the CIP program for the various items to be cleaned — Heat Exchangers & Pumps
The CIP system can have many other forms and sizes — Often its custom build
Do you need Cleaning in Place equipment -- Mejeriet can provide you with the components to set up efficient CIP lines.
Based on the ID numbers below. Mejeriet shall be pleased to quote you the equipment you need.
Cleaning in place Units
23.01 — Small CIP Unit — 3 x 500 lt tanks
23.02 — Medium CIP Unit — 3 x 1.000 lt. tanks
23.03 — Max CIP Unit — 3 x 1.500 lt. tanks.
Send us your request and we make it happens.
Illustration to the right is from the time where the author was young