Cleaning In Place -- In short called CIP
When the European's Dairy Industry development took off in the sixties with bigger and bigger Dairies, it was no longer possible to manually clean the much bigger tanks needed in the process.
In a period, a balance tank with direct steam injection, a pump and a turbine in the top of the tank did the job.
It progressed, but not for long, as added detergents got wasted after each circle. It was unprecise in temperature and time as the mood of the dairyman was the control.
Then a clever guy came up with the idea to make a separate Unit consisting of; Tanks – Plate Heat Exchanger – Pumps – PLC program controlling time/strength of detergent / exact temperature flow.
Another benefit is that Dairy could reuse the detergent and save the environment from aggressive wastewater.
In Dairy production, cleaning is a severe job — Every day.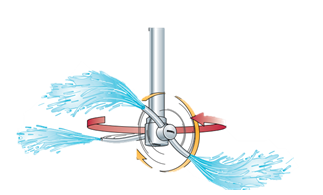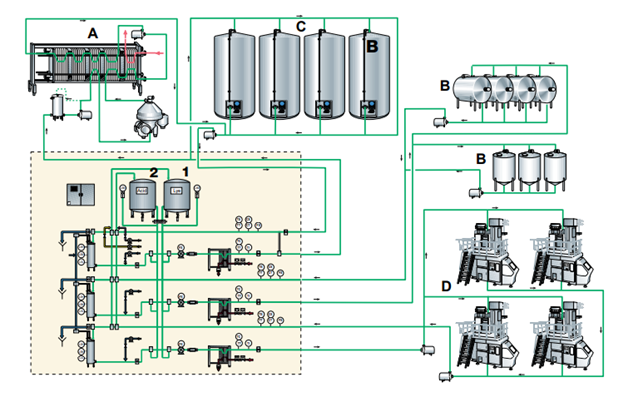 CIP = Cleaning in place
To the left is a schematic illustration of a Cleaning In Place Unit — Cleaning the following:
Plate Pasteuriser
Silo Tanks
Buffer Tanks
Filling Equipment
The CIP unit can consists of tanks with well water, Alkaline and  Hydrogen peroxide or Acid — Set of timers & sensors to control the CIP program for the various items to be cleaned — Heat Exchangers & Pumps
Mejeriet offer standard CIP systems in the first place, but it's possible to tailor-make equipment and CIP programs according to needs.
Just like using a GPS, Mejeriet is the best place to ask for theoretical & practical Dairy experience. That makes it possible for a joint Dairy owner to manage all aspects of their production.
More info about Heat exchange equipment
Contact us for a Budget price for your Heat exchange components.