Mini Batch pasteuriser - Indirect heating/cooling
Heating media: Gas -This unit has cooling with tap-water, suitable for Yoghurt, Cheese and Ricotta – Capacity available from 30 litre to 520 litre
Mini batch pasteuriser – Indirect heating/cooling with – Gas/Tap water Mejeriets ID: 60.3
With these Mini batch pasteuriser, you can heat and cool the milk and produce yoghurt, cheese and ricotta.
An underneath atmospheric gas burner achieves heating up to 75 ° C (up to 95 ° C with expansion vessel option).
The cooling takes place by a flow of tap water thru the jacket.
Description:
Double jacket vat on band support – Capacity: 36 lt.
Made of stainless steel AISI 304.0
Finishes suitable for food; Equipment:
DIN 50 butterfly valve discharge;
Double jacket (bain marie) suitable for direct cooking over the flame;
Removable cover
T" tube for fume exhaust
11 KW stainless steel atmospheric burner (gas),
equipped with: • gas valve • pilot flame with safety against accidental switch off
piezoelectric button for igniting the pilot flame
a thermal barrier for floor protection Dimensions (LXWXH): 63x57x72 cm
Weight: 33 kg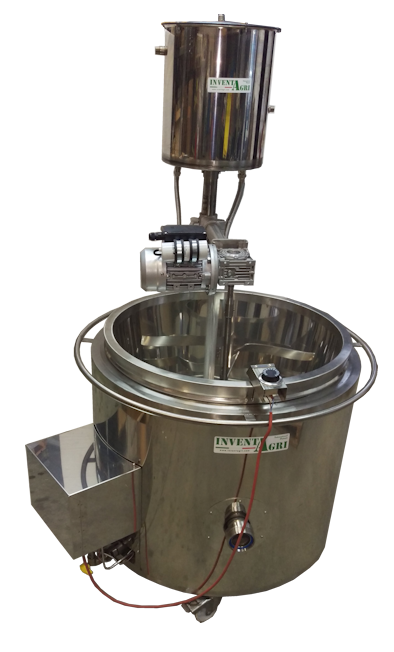 Contact us for a Budget price on Unit 60.3 – Mini Batch pasteuriser