For a relatively small amount of money, you can start your own Dairy
Compared to traditional Dairy plants, investment go down by 60 (sixty)%
And the Multiflex pasteuriser saves up to 70% of the time compared to  a standard Batch pasteurised because of the following.
When the milk has undergone the correct temperature treatment and coagulation or fermenting takes place, exchange the vat with the next portion of milk
You can repeat the process up to three times during a standard Batch cycle
This innovative system allows working different quantitative of milk and whey in sequence, eliminating the dead times of coagulation,
Regarding traditional plants, the plant investments go down by 60%, and the man work is reduced by 80%.
The taste quality and the sanitary of the products are constant even with different acidity of the departure milk.
Non-viscosity liquids can be heated/cooled at up to 6 °C per minute.
The heating or cooling processes occur after your choice, manual or automatic.
The temperature control takes place by a PLC +Touch Screen that allows to set up and recall of specific programs for every cheese or food typology.
The Touch Screen endowed with the machine records all the thermal processes done.
The recorded data can be displayed on the Touch Screen in graphic or table format and saved on a USB storage key for further PC elaborations.
You can produce Ricotta without direct steam injection.
Virtually no wastewater
Immediately thermal response.
Possibility of making the thermal processes in any container ( plastic, stainless steel, wood, etc. )
Heating/cooling on milk, whey or foods without quantitative limits are suitable to work in sequence.
Heating/cooling program adjustable from container to container
Optional on demand: other mixers for the curd, connected to the lower part of the agitator
Disinfection of the working utilities using hot water production.
Auto disinfection of the Radial Dynamic heat exchanger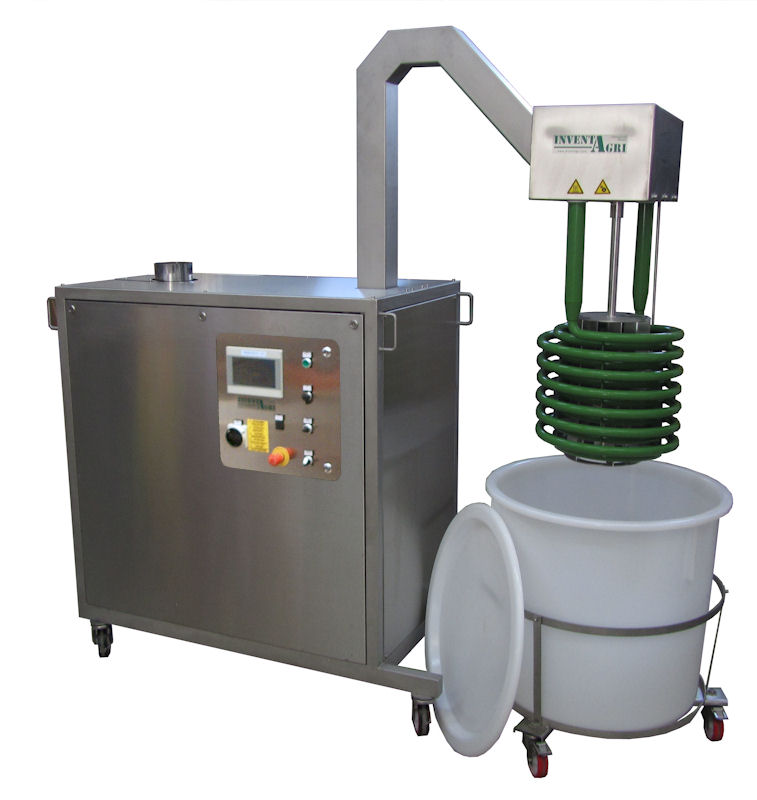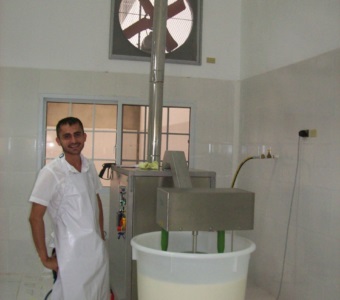 Features of the Multiflex Batch pasteuriser
Economical because the Unit can operate on both electricity and diesel so that you can make your Dairy products on the Mountainside.
Heats up to over 95 °C and cools down to 20-30 °C (depending on tap water temperature). –
Cooling to lower temperatures requires an external chilled water generator.
Possibly making the thermal processes in any container (food-grade plastic, stainless steel, copper, wood, etc.)
There is a very high production rate, thanks to the possibility of working in sequence with any number of containers.
The type of processes can be different from container to container.
The electronic controller endorsed with the machine allows the set and recall of specific programs for every type of cheese or other Dairy processing.
Produce hot water over 95 °C, suitable for washing or sanitation laboratory equipment or stretched cheese production.
Connecting the machine (in a closed loop) to a water tank (or ice bank) makes it possible to eliminate any water waste.
The pasteurising needs. Less than 2 KW of electricity and some diesel. The electricity can be replaced by manual labour if you live in rural areas.  
No food-grade piping is necessary to connect to tap water or water reservoir.
Technical details for Multiflex Batch pasteuriser
Mejeriet suggest starting a Dairy in 4 easy steps
Contact us for a Budget prices